Open-label evaluation of the skin-brightening efficacy of a skin-brightening system using decapeptide-12
The author:Go Top Peptide Biotech Released in:2021年04月20日
摘要:
Decapeptide-12 to improve the appearance of hyperpigmentation, age spots, sun spots, post-inflammatory pigmentation, uneven skin tone and light damage.
About the research evaluation of decapeptide-12 on the skin lightening system
Decapeptide-12, the English name is Decapeptide-12, and the trade name is Lumixyl.
Decapeptide-12 is a revolutionary peptide technology developed by dermatology researchers at Stanford University to improve the appearance of hyperpigmentation, age spots, sun spots, post-inflammatory pigmentation, uneven skin tone and light damage.
Our skin color is mainly determined by two reasons.
1: genetic factors.
Genetic genes determine the various physiques of our body, such as the size of our eyes and facial features.
Similarly, the skin color is also determined by genetic genes. You will find that the part of the skin that has been wrapped under the clothes since childhood is the whitest compared to other places. This is also the original skin color determined by genes.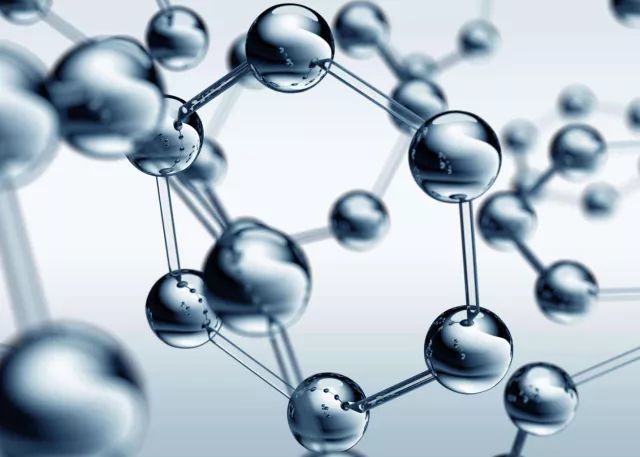 2: external factors
In addition to internal factors determined by genes, the external environment is also an important factor affecting skin color. The most direct is ultraviolet radiation.
Ultraviolet rays activate tyrosinase, and the synthesis of pigment has a great relationship with tyrosinase.
Among the cells of the basal layer of the human epidermis, there are melanocytes. The tyrosinase contained in it can oxidize tyrosine into polysaccharides. After a series of metabolic processes, melanin can be finally produced.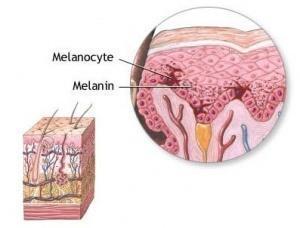 So what is the role of decapeptide-12 developed by Stanford University in skin lightening research?
Decapeptide-12 is a new synthetic oligopeptide with tyrosine, arginine and serine in its sequence. These amino acids have a strong inhibitory effect on the activity of tyrosinase. Therefore, decapeptide-12 can inhibit the activity of tyrosinase, thereby effectively reducing the synthesis of melanin.

According to research by Anan Abu Ubeid and others, compared with hydroquinone, decapeptide-12 has a stronger ability to inhibit intracellular tyrosinase and is not toxic.
Research by Kassim et al. showed that compared with patients who did not respond to 6 months of hydroquinone-tretinoin-steroid combination cream treatment, the hemifacial melasma treated with decapeptide-12 was improved by 50% the above.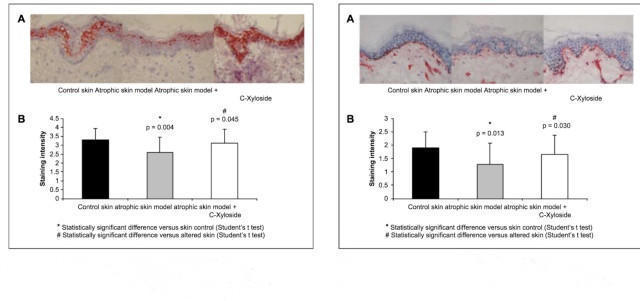 Basil et al. used a half-face model to conduct a controlled trial of decapeptide-12 in the treatment of melasma on 5 volunteers, and showed that 5 volunteers had a significant improvement in melasma.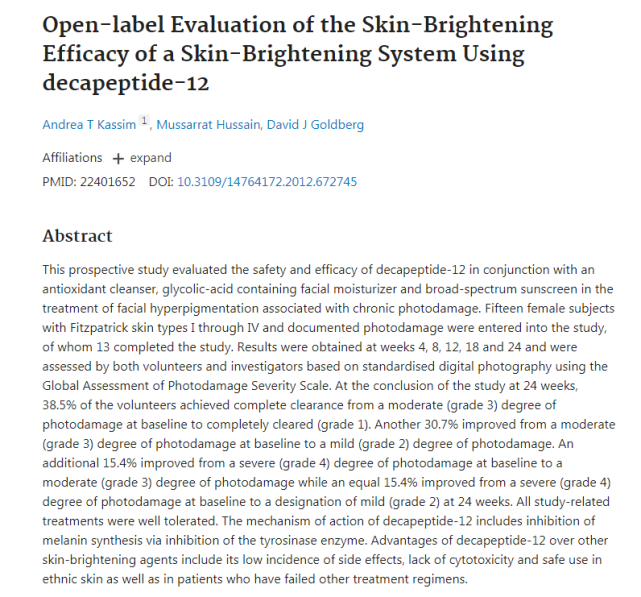 On the basis of all theories, we need more practice. Therefore, in daily skin care, we can pay more attention to the introduction of ingredients, and then correspond to the effect of use. Hope to give us consumers a satisfactory evaluation.
Original source:
https://doi.org/10.3109/14764172.2012.672745
Hangzhou Go Top Peptide Biotech is a technology-based peptide company and National High-tech Enterprise located in Hangzhou, China. And has an experienced scientific research team that can provide customers with high-quality products and professional services.Main service include Custom peptide synthesis, Peptide CRO/CDMO,Non-GMP and GMP peptide, Cosmetic peptide. For any requests of Peptide for research purpose,welcome to contact us. www.gtpeptide.com, sales3@gotopbio.com.